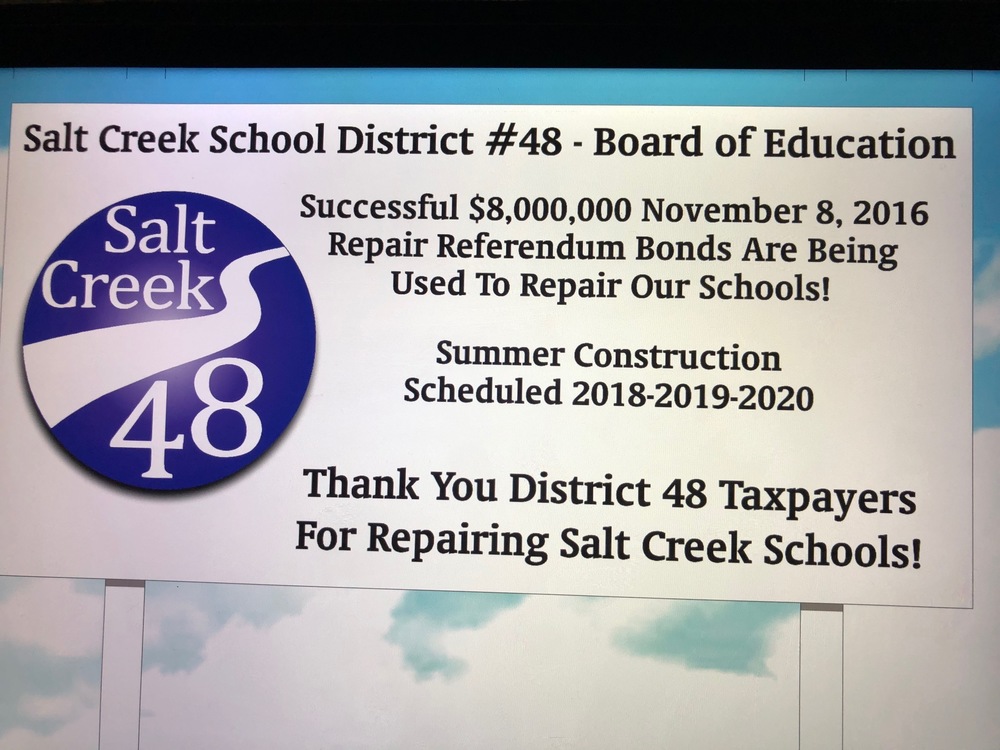 $ 4.6 Million Spent On Salt Creek D48 Construction This Summer
Dr. Frank Evans, Director of Operations & Business Services
Friday, July 20 2018
As you pass by Albright Middle School and Stella May Swartz School this summer, you will immediately notice a significant amount of repairs have been done! District 48 funds from the successful November 2016 building bond referendum have been used to complete a number of much needed repairs at our schools. We are also using the school district Operations & Maintenance Fund budget to do additional work. Work is scheduled each summer through 2020 to repair our schools and keep them safe. Thank you for your support of our schools.
Construction began at all three schools and the District Maintenance Garage June 6, 2018. Teachers report August 30, 2018 for two days of institute and the first day for students is Tuesday, September 4, 2018.
The largest amount of work this summer has occurred at Albright Middle School. Repairs included replacement of the entire roof, removal of skylights, relocation of air conditioning units to a common area, and directing storm water on the property to the village storm sewers. In addition the Health Life Safety Code required a new entrance and hallway be constructed that is handicapped accessible. We also have revised entrances into the cafeteria and gym. As a result of this work the Orchestra Classroom was moved to another first floor location and provides additional instrument storage and instructional space.
Two new handicapped accessible restrooms are now available on the South first and second floors at Albright Middle School. A new security door was added to the first floor to close off the rest of the building when events are held in the gym and or cafeteria. The district office entrance has been relocated to correct another health life safety violation.
Improvements at Albright middle school include additional parking on Harrison Street by the athletic field, new fencing, elimination of multiple level pavement in the student gathering area, new sidewalks, new outside entrance, and relocation of the garbage and recycling center. The loading dock has been revamped and a walk from the the loading dock to the garbage and recycling center was added. Landscaping has been added in back of the building facing Myrtle Avenue.
Work at Stella May Swartz School included tuck pointing, replacement or cleaning of structural steel over the windows and doors. The chimney was lowered and boilers will be re-tuned. The entire 1999 Second Grade wing slab was raised with new flooring installed. The entire second grade wing has been repainted using "Classrooms of the Future" colors. All unit ventilators in classrooms, offices, and entrances have been replaced along with installation of a new air conditioning chiller on the roof.
Work at the District Maintenance Garage, located on the campus of Salt Creek Primary School, included tuck pointing and replacement or cleaning of structural steel over windows and doors.
Salt Creek Primary School had the least amount of work done this summer because of the SASED Summer School during the entire month of July. The sinking concrete slab and flooring was replaced in the Kitchen.
Repair bonds have been used for the roof replacement, masonry and structural steel repairs, air conditioning chiller replacement, air conditioning compressors, new unit ventilators, concrete slab raising with associate floor replacement, and health life safety code violations.
District budgeted funds have been used to pay for the Harrison Street parking, Myrtle Street site improvements, new flooring in several classrooms, installation of new 3M security film at all school entrances, new vertical and chair wheel chair lifts at Stella May School, and the new handicapped accessible bathrooms at Albright Middle School.
Building principals look forward to a new school year with safe schools and will show off improvements during various open houses and if you would like to see the improvements they would welcome the opportunity to show you.
While this summer has been very busy, work on the projects for next summer are now in the planning stage. Bids to do the work are expected in November and construction work will begin as soon as students end their year mid June.
We deeply appreciate the support of the taxpayers who began paying the six-year bonds with their tax payments this summer, support from the Board of Education, support from the FTC who ran the referendum campaign, and Superintendent Dr. John Correll who fully supported all of the needed repairs..