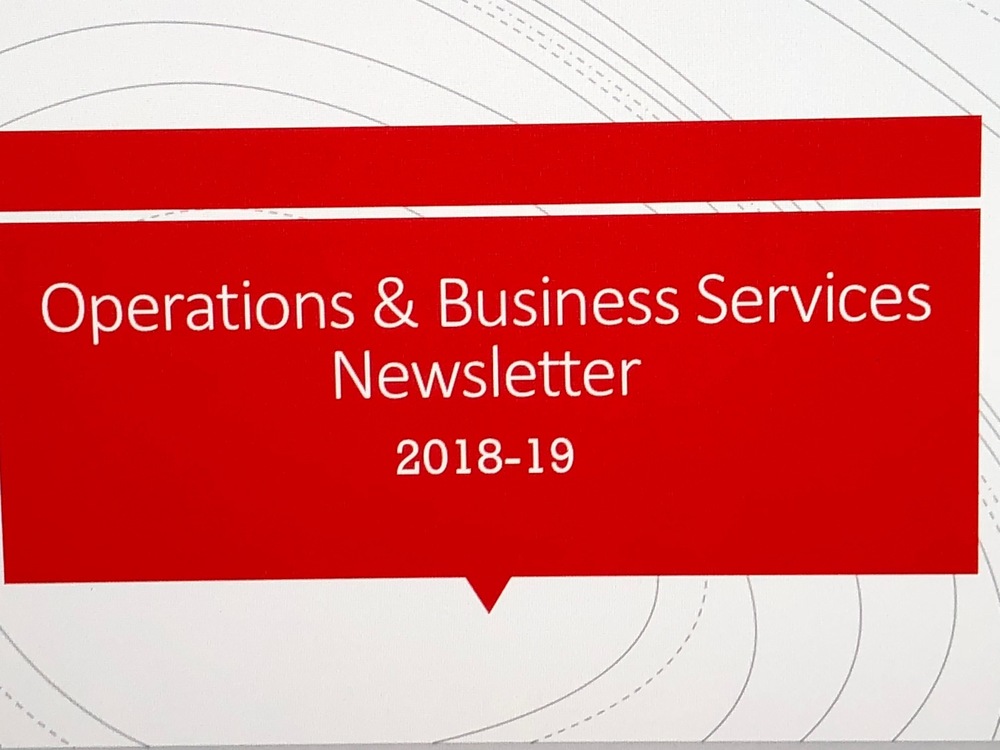 August 30, 2018
Dr. Frank H. Evans, Director of Operations & Business Services
Thursday, July 26 2018
Construction Now In Final Stages
It has been a long hot summer...literally. Air conditioning at Stella May Swartz School and Albright Middle School was taken off line immediately after students left their building and did not come back on until August. Offices at Stella May Swartz closed and staff worked out of Salt Creek Primary School and Albright Middle School Conference room since they had A/C. District offices were cooled with fans until that became unbearable and individual air conditioning units were then purchased and set up mid July.
Most of the construction occurred as planned throughout June, July, and August. The roof replacement at AMS did take longer than planned due to the large number of heavy rains in June and July.
Substantial completion was reached in August and we are now working on punch list items. Punch list are those items that need to either be corrected or finished and include paint touch up, Automated Logic Control adjustments, unit ventilator adjustments at Stella May Swartz School, etc.
School Starts Late To Allow Deep Cleaning

RJB Properties, Inc. custodians tried to work around construction but it was very difficult for them. The SASED Summer School lasted the entire month of July so the building could not be started until early August. Once substantial completion was reached in mid August the crews could begin deep cleaning at Albright Middle School and Stella May Swartz School. Deep cleaning involves removing all furniture, cleaning, waxing, and sealing of floors, return of the furniture and then moving to the next classroom or office to do the same. Hallways are done last.
MOJO Repair/Replace Work Order Ticket System Comes To Operations & Maintenance

We are using the same MOJO system for Operations & Maintenance Work Orders that is being used for Technology Work Orders. The new Ticket System treats employees as customers. Whatever is needed is entered into the work order ticket system and copies go to the building principals, IT Media Center Techs, Danielle our IT Single Path Tech, Juan our Supervisor of RJB Properties custodians, Manny, Manager of Building & Grounds, and me.
The new work order system acknowledges that you have submitted a work order and then follows up for a rating and evaluation from you. The information is tracked and if trends are discovered plans are made to address them. As an example if we have several unit ventilator work orders we may need to bring in the Automated Logic Control specialist or the HVAC contractor.
Weekly Operations & Business Services Newsletters Now On The District Web Sites

We will publish our newsletters on the web site and will no longer email them out. The new site allows us to provide immediate news rather than wait every week for them to appear in your inbox.
Chicago Board of Education Approves $6 Billion Operating Budget
The Chicago Tribune reports, "The Chicago Board of Education approved a multibillion-dollar budget for everyday expenses and new debt Wednesday." The budget "marks a nearly $285 million spending increase from last year and includes about $60 million in extra funding for schools to help cover unionized teacher salary increases." District officials say increased state aid allowed CPS "to borrow at lower rates, ease off some of its need for enormous cash loans and win slight upgrades to what are still junk bonds." Having depleted cash reserves in recent years, the district "expects to restore a positive balance at the end of the fiscal year in a fund designated for emergencies."
The Chicago Sun-Times reports that despite the board's unanimous vote, the budget passed "over a slew of objections about where the money would be spent." The district's budget "is structurally balanced for the first time in two years, thanks to a new state funding formula that benefits Illinois' largest district, which will project a cash surplus of $232 million once the books are closed on the 2017-18 school year, also an anomaly in recent years."
WTTW-TV reports district officials are touting "new science labs, more social workers and more pre-kindergarten seats" under the budget, but "critics say despite the budget being bigger than in previous years, it still promotes inequality across the district."
Quote For The Week
"A room without books is like a body without a soul." Cicero